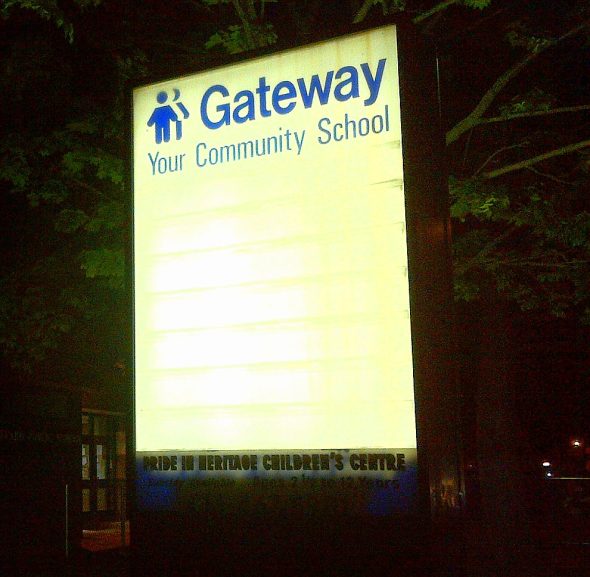 Tonight was a TOTAL Surprise!
My brother Amir and I were on the Bus heading downtown to an as-yet-to-be-decided Isha and Taraweeh location. Looking out the bus window, we suddenly spot a young Topi-Clad brother in the posture of calling the Adhan through a Gymnasium window in the Public School we were passing.
Having suddenly discovered a new Isha and Taraweeh prayer space, Amir immediately encouraged me to hop off the bus with the intent to experience it and write it up for 30Masjids with a single word, "Go!".
So I did.

Ringing the bell too late, meant I exited the bus one stop later than I should. Aw well.
Once off the bus, walking east along Gateway Boulevard from Don Mills Road had me perplexed. How does one enter the school?
It's summer. That means not only are the school kids out for the summer, it means construction is in while they are away. There is meshed metal fencing all around this Public School. I see both Muslim Men and Women walking towards the school, but where are they going to?
Eying my perplexed body language, a South Asian garbed brother calls out to me in clear network-television-news-accented English to see if I am looking for the way in?
Yes.
He leads us to a one panel opening in the meshed fence wall.
There is a flashlight being held by someone in the dark which kept spotlighting the path for worshipers as we made our way around the darkened playground equipment.
It was all very X-Files.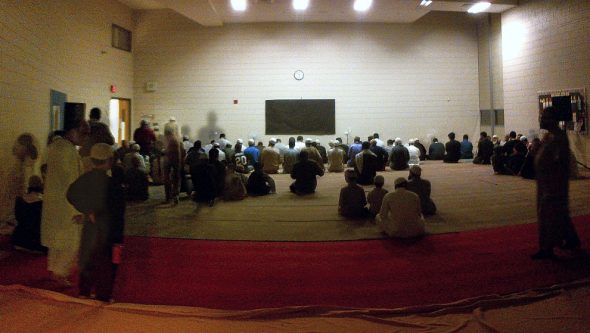 Once inside, I thank the brother while he points out the Boys washroom down the hall as I still had to wash and make wudu before Isha Prayers.
During Prayers, ahead of me is a brother sporting a jersey with a "name" and Player Number of "20" on it.
I missed it at first, but if you look closer, the name is "RAKAT" and the number is "20".
This is obviously his Taraweeh Shirt as Taraweeh is usually performed in congregation with either 8 or 20 Rakats prayed.
I wanted to snap a much better photo of the back of his shirt, but he became lost in the crowd later on when I tried to do so.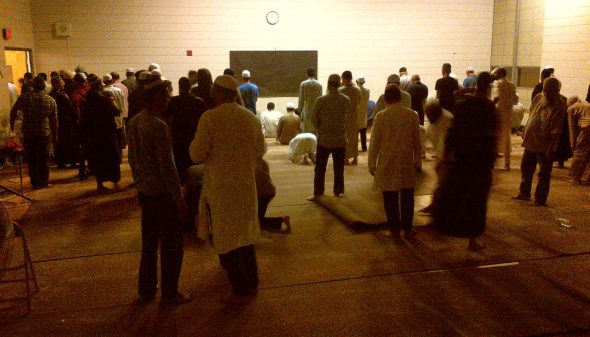 The Rakats were quick!
Isha Adhan, Call to Prayer, was made presumably at 10:20 p.m.
Isha Prayer began at 10:30 p.m.
Taraweeh Prayer began at 10:40 p.m.
The first 8 Rakats were completed shortly after 11 p.m.
Not that many people left, which at first was surprising. Looking at who was leaving after the first 8, it was the much younger children and their dads who had come to pray alongside each other.
Pairs of Rakats were five minutes each. With that speed, I felt there was no reason to leave yet and found myself knowing I would complete 20 Rakats of Taraweeh tonight.
We were done Witr by 11:30 p.m. Sweet!
I ask a few questions from different brothers to learn more about this Taraweeh location. One of the brothers was already familiar with 30Masjids so he knew what I was looking for.
This gymnasium has been rented each Ramadan for at least the past 10 years.
Indeed I spotted a brother in the hallway with a collection box encouraging everyone loudly to donate towards the hall rental fee. Notably, I spot not just five and ten dollars bills in the box, but brown coloured 100 Dollar bills as well.
There is an incorrect assumption that Flemingdon Park as a Neighbourhood and Community is down and out. That's not true.
It's increasingly a middle income residential neighbourhood with mixed income dwellings and income earners.
There are many immigrants who choose to live here, and everyone gets along.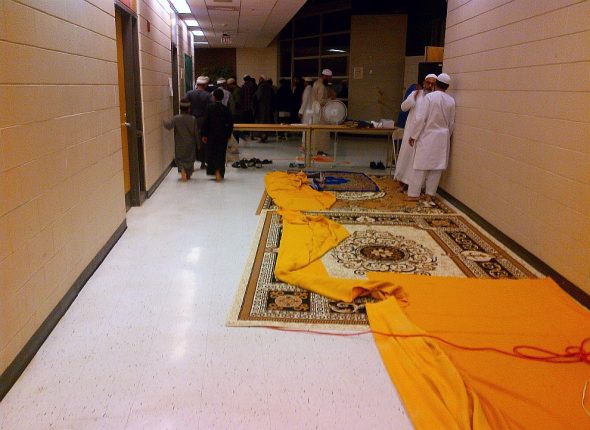 Gateway Public School at 55 Gateway Boulevard is nestled halfway between Darul Khair Islamic Center a few minute north in Flemingdon Park and Masjid Darus Salaam a few minutes west and across the bridge in Thorncliffe Park.
About 300 brothers are praying here every night through Ramadan.
Sisters pray in a separate room, their numbers vary between 20 and 50.
Finishing 20 Rakats before Midnight certainly was a nice surprise, and alhumdulillah, everyone was friendly.